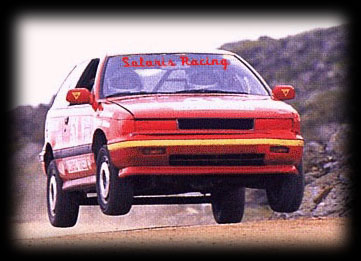 This is an artist's rendering of the Solaris Racing Mitsubishi Mirage Turbo.
---
We have decided on a 1989-92 Mitsubishi Mirage. This car is tough (a major requirement), and gives us plenty of room to grow. For the first season, we will run the base model engine (95 horsepower) in an upgraded frame. In the second season, we will drop in a turbocharged 2 liter 4G63 (195 horsepower) from a Talon/Eclipse . When we are ready, we will modify that engine for ~300 reliable horsepower. Our goal is simple and acheivable. We want to finish every race.
---
As a group, we have decided on a (growing) number of quotes, which will be placed on and in the car.
On the front bumper:
'I just want to get there faster"-Smashing Pumpkins
On the back:
"Faster than we thought we'd be"-Smashing Pumpkins
On the outside:
The Wheels: "If the potential turns kinetic"...OR..."When the Potential becomes Kinetic"..."Potential--->Kinetic"
The Exhuast: "Being shot out of a cannon will always be better than being squeezed out of a tube" - Hunter S. Thompson
On the dash:
"Passion governs, but she never governs wisely" - Ben Franklin
"Drive like you have another one"
"He who hesitates eats trees"
"Go, Dog, Go!"
MISC:
"The past is arbitrary"
"Sunbeams are not made like me" - K. Cobain
"Racing makes heroin addiction look like a vague wish for something salty." - Peter Egan (with apologies to Mr Cobain, R.I.P.)
"Things bring you to reality as to how fragile you are; at the same moment you are doing something that nobody else is able to do. The same moment you are seen as the best, the fastest and somebody that cannot be touched, you are enormously fragile. Because in a split second it's gone......" - Ayrton Senna